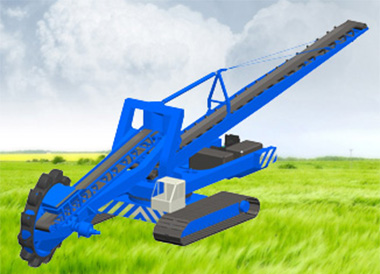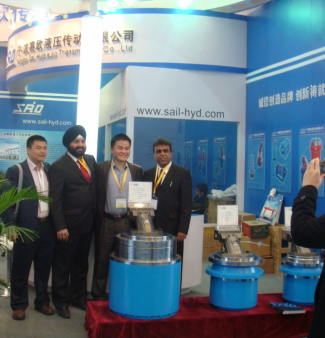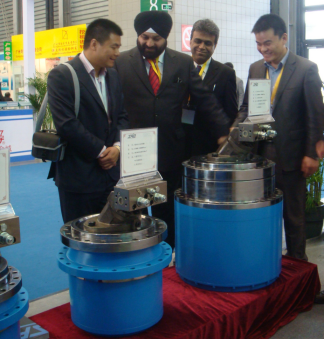 The world's first full hydraulic bucket wheel excavator excavator (bucket wheel stacker reclaimer) was invested by a private enterprise Dalian Heavy Industry Co., Ltd. (002204, shares it) for more than 30 million yuan, jointly designed with Dalian University of Technology, the product has applied for the country There are 3 utility model patents and national invention patents. It will be widely used in water diversion projects, coal mining, highways and subway construction. It has reached 6 intent supply contracts with domestic and foreign merchants, and has accumulated dozens of production units. . After the expert group appraisal, the successful development of the bucket wheel excavator has filled the domestic gap and improved China's competitiveness in the world construction machinery market;
The biggest feature of this new type of equipment is the adoption of the full hydraulic power system in the world. In a test site in Jinzhou New District of Dalian, this excavator with a height of 10 meters and a weight of 300 tons completed 1000 cubic meters of hard earthwork excavation in only half an hour. These workloads, a traditional excavator, can take at least one day to complete.
At the same time, Sail Company bids for execution components with international famous brands such as Germany and Sweden: walking device, slewing device, discharge/receiving transmission device, bucket wheel transmission device, etc. After review by many experts and professors, Sailor Company's walking device SL422T3B427 is finally selected. (500000N.m), SLF711T5B988, SLF711T5B1375, transmission device SLF711T5B1375; no quality problems of the product itself (zero service) since the use in 2010 for more than three years; praised by users and many experts.
Since 2005, Sail has designed and developed the domestic reducer blank--high-torque reducer. After years of innovation and development, it has produced qualified 1000000N.m high-torque reducer, and the reducer below 5500000N.m has been mass-produced. Used in mining equipment, crawler lifting equipment and other industries, the products sell well at home and abroad. And Sail's high torque reducer contributes to China's competitiveness in the world's construction machinery market.